This is a big statement, but flying Business Class on the Emirates A380 was the best flight I've ever taken in my life! Much more pleasant than flying on old Russian rust buckets that should be at home in a museum, not still in actual use! Yes, I'm still alive to tell the tale after that experience.
Even better still, there's nothing like flying in luxury for 3 hours from your home base to another country, getting off at the other side for a couple of hours to scoff some wine down at a vineyard at the Villa Maria Winery, and then flying home again in the same day. That's the silliest and longest day trip (in terms of distance) that I've ever undertaken to drink wine!
Sometimes, I can't believe that a silly travel blog opens doors like this!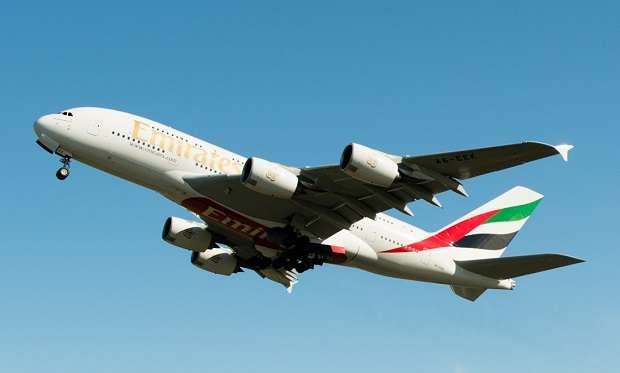 No, I didn't sell myself on the street to score this trip. I was invited to road test the Emirates A380 from Brisbane to Auckland as part of a media trip. This flight was part of celebrations for the first ever scheduled Airbus A380 service into Brisbane and onto Auckland in New Zealand. You can see more about this with my interview with Emirates Queensland Manager Tim Shepherd.
Okay, I didn't pay for this experience, but I'm pissed off that I went on this flight – because every other plane I fly on is going to be a complete let down compared to this!
Let's have a look at various aspects of the Emirates A380. This one was only a week old!
Emirates A380 – Business Class
I was lucky enough to fly Emirates Business class on the Boeing 777 on a  trip back from Dubai in 2012. But Business Class on the Airbus A380 is another level altogether.
For starters, the A380 is really quiet and noise levels are significantly lower than any other plane I've travelled on. The Business Class seats are very comfy and stretch out so you can have a decent sleep. There is even a little minibar there if you are feeling a bit thirsty, plus an extra wide screen to watch the gazillions of entertainment channels out there in Emirates land.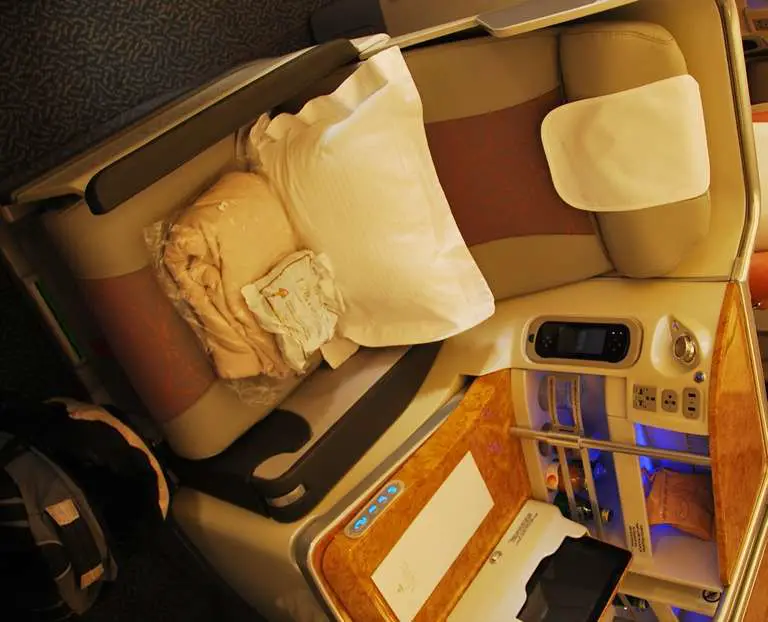 But if you're really bored after watching the thousands of channels available on the in flight entertainment system, you can go to the back of Business Class to the bar and have a few drinks with other passengers. That's right, if you cannot stand with sitting (or more likely, lying) in your comfortable seat that won't give you deep vein thrombosis, you can go down the back of the upper deck and have a few drinks.
Actually, I think every plane and class should have one of these, as this is a great area to socialise and meet new people.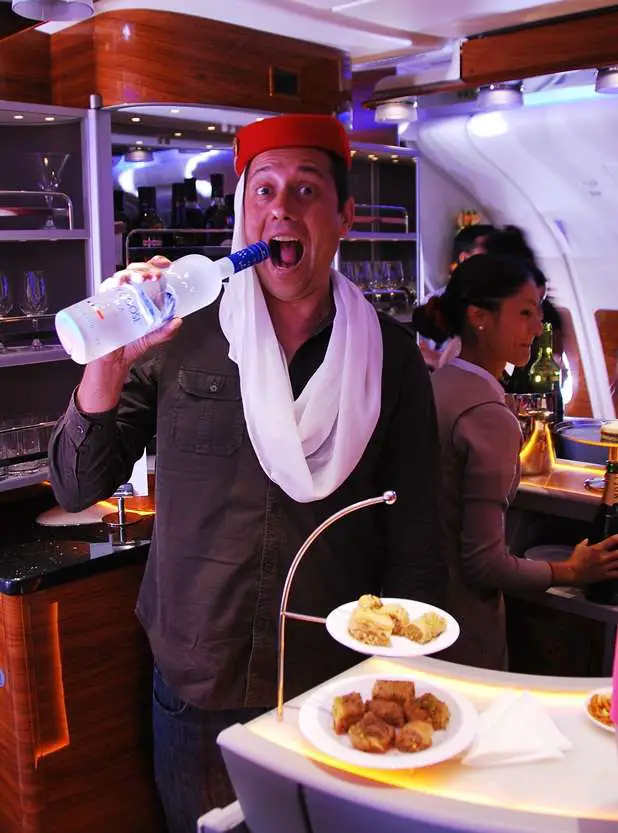 Anyway, here is a quick video about Emirates A380 Business Class via a short walk through I did, just to give you an idea via some colour and movement.
Emirates A380 – First Class!
Now, I didn't fly in First Class, but I was allowed to have a sneak peek inside. You might have to mortgage the house to fly in here, but it would be nice! Some people live in spaces way smaller and far less luxurious that this!
I thought the standard in Business Class was insane until I viewed First Class (unfortunately, the flight crew didn't let me stay there and I obviously didn't sweet talk them enough!). The First Class Suites are much larger, and there is even a shower and spa there if you don't want to freshen up at the airport – you can do it on the plane before you land!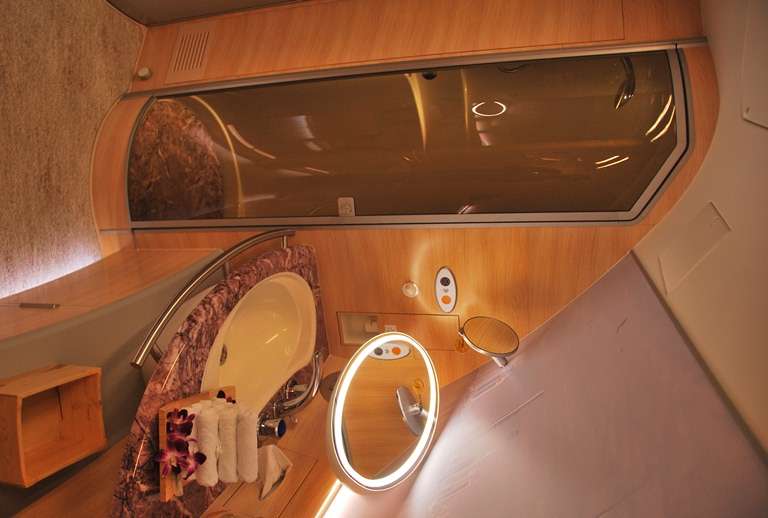 Here is my quick walk through of First Class in the Emirates A380!
Yep, that's crazy stuff. I also had a chat to the pilots at the pointy end of the plane. I wondered if they used something like a Playstation to practice landing at airports that they've never flown into before. But apparently, Emirates are way more advanced than that and they put their pilots through hours of 3D simulator practice time!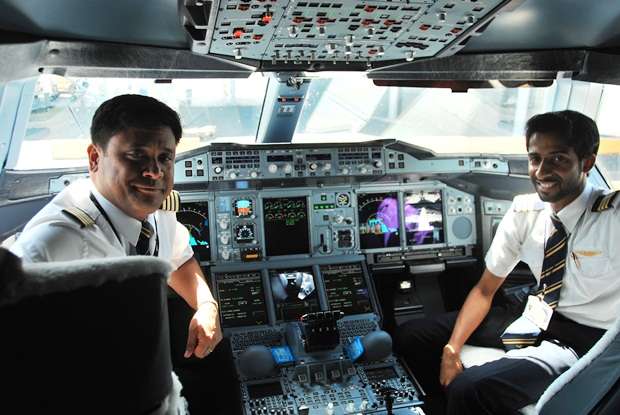 Previously, I've also travelled in Emirates Economy Class previously and this is a pretty good standard as well compared to other airlines I've been on. The Emirates A380 also has mobile phone roaming and Wi-Fi – not that you really need to use it! The was a lot more going on to keep me occupied!
Once again, I've never taken a plane to go overseas on a day trip to sip wine. Someone has to do it..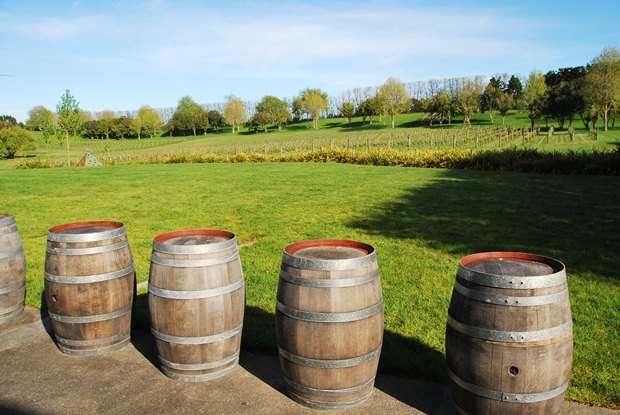 It looks like Emirates are going to have many A380's mate with each other because they're ordering them like they're going out of fashion! Emirates currently have 35 A380's, and have plans to buy another 50 of them! That's expansion on steroids!
Anyway, it's going to take a lot to top this flight. If I could travel like this all the time, I would!
Yes, Emirates provided this experience for me, but all silly opinions are my own.
About Anthony The Travel Tart
The Travel Tart writes about the funny, offbeat and weird aspects of world travel today. Travel wasn't meant to be taken too seriously! Check out ways to say hi below or sign up for his silly newsletter!
Other Silly Posts!