Elephant Ride Funny!
Elephant Rides. Some of us may have tried this when visiting South East Asia in places like Bali in Indonesia, and in the Chiang Mai area of Thailand.  It's a popular activity for travellers to undertake. There are a few elephant sanctuaries around that allow you to do this. However, if you do try this normally enjoyable activity, make sure that you stay away from the potentially amorous pachyderms in mating season!
I've thought about this exact predicament when travelling on camels in the Sahara Desert in Morocco – that is, what if I'm on a female camel, and there is a male camel behind me raging full of testosterone?  Think about it.  If he's seeing my female's camel's backside in front of him for a few hours swaying from side to side, it could drive him a bit crazy.  I would want to make sure that he's had his fun for the day before the ride started.
However, this bizarre situation is obviously a strong possibility based on the photo below.
Elephant Ride Photo WTF!
Here is a funny travel photo sent to me via email this week of an Elephant Ride somewhere out there – I burst out laughing when I first saw this.  And I've covered up the offending bits to make sure this doesn't cause too much offence.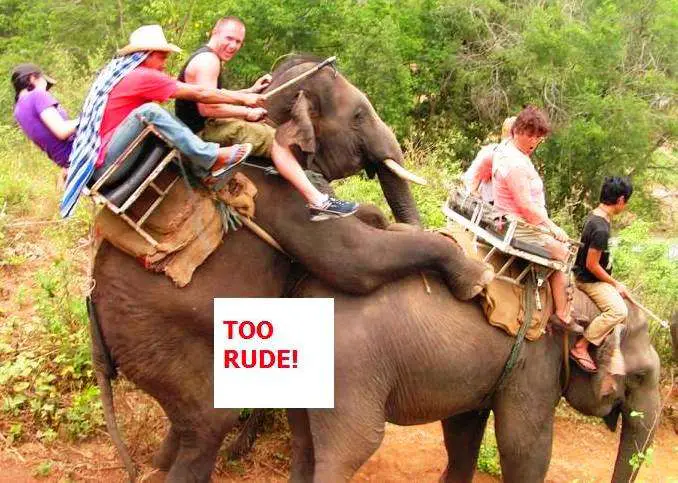 I like the reaction of the guy who is sitting on the elephant at the front. Looks like he is about to crap himself! I hope that he was wearing the brown underpants! He would have needed to wash them after this incident!
Had I received this photo earlier, this would have made my list of 52 Perfect Offbeat Travel Tips. Anyway, take note of this photo the next time you go for an Elephant Ride.
Obviously, this photo is a tad more risqué than Elephant Rides for Children at Regent's Park Zoo: The Passengers Mount by Ladder Giclee Poster Print and Never Ride Your Elephant to School
About Anthony The Travel Tart
The Travel Tart writes about the funny, offbeat and weird aspects of world travel today. Travel wasn't meant to be taken too seriously! Check out ways to say hi below or sign up for his silly newsletter!
Other Silly Posts!