Efes Pilsen Beer Bottle = Oversized!
Most people who travel to Australia marvel at the invention that is the Stubbie Cooler. These are typically made of wetsuit-like material that is used to keep your beer cold longer, whilst making it comfortable to hold without obtaining frostbite when you are trying to quench your thirst.  Most standard beer bottles will fit into one of these coolers – except for one. Efes Pilsen is a Turkish Beer – and quite a nice drop.  It's nice to have one after you've finished haggling for a carpet.  It's a light, pale kind of beer which is nice on a very hot day.
Unfortunately, Efes Pilsen is usually contained in a 500 ml bottle that is way too wide for any Stubbie Cooler, hence, one has to drink it faster before it warms up and it feels like you are only drinking the dregs that are left.
The Efes Pilsen Beer Bottle
I've included a picture of a 500 ml Efes bottle on top of one of my dodgy standard stubbie coolers that I have at home below for comparison. See how it is way too wide for the stubbie cooler? (Sorry to my New Zealand friends! – if I still have any!)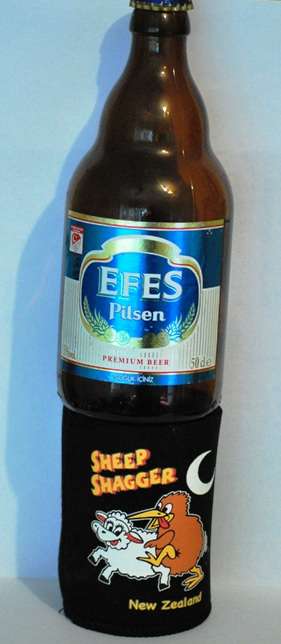 However, the silver lining for this problem is that I guess there is an emerging market out there for an enterprising individual to produce Efes Pilsen-fitting stubbie coolers! Necessity is the mother of invention, so maybe I should have a crack at creating a flood of Efes Stubbie coolers and become a very rich man.. maybe!
You could use it in conjunction with this 'Buy Me A Beer, I'm Turkish' T-Shirt. Hmm, that might be a little bit daggy actually!
More Efes Pilsen Stuff
Check out more at Beverage Companies of Turkey: Beer and Breweries in Turkey.
 Well, Efes is the dominant player in the Turkish market, and that's pretty much all you can drink there for most of the time – but that's not such a bad thing!

About Anthony The Travel Tart
The Travel Tart writes about the funny, offbeat and weird aspects of world travel today. Travel wasn't meant to be taken too seriously! Check out ways to say hi below or sign up for his silly newsletter!
Other Silly Posts!