Dubai Travel Tip When You're Really Hot!
One thing that you will notice on your Dubai Travel trip outside of one of the busiest airports in the world are these strange looking metal constructions that are spread all over this hastily constructed city – at predefined locations on the side of the road all around Dubai.
Check it out!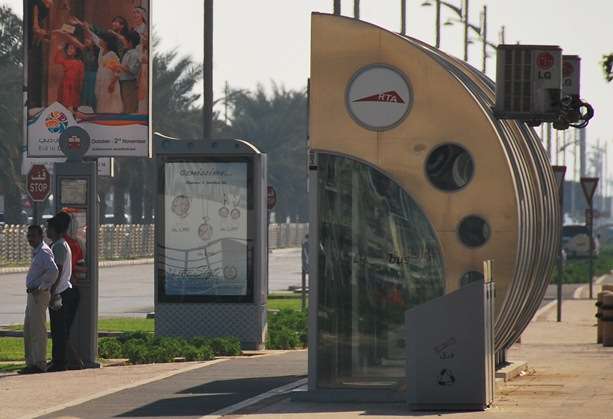 They are air conditioned bus stops!
Now, invention is usually the mother of necessity, and hence, there is a very good reason why these metal beasts exist. Its because summer in Dubai is pretty much unbearable as temperatures often reach a vapourising 50 degrees Celsius (or 122 degrees Fahrenheit). No smart person would even dare venture outside in this kind of heat, and Dubai residents who don't fly out during summer to escape the heat spend an existence of moving from air conditioned dwelling space to another one that is cooled by artificial means.
The photo above was actually taken on a relatively 'cool' day of a maximum in only the mid thirties (Celsius), hence why some patrons were venturing outside to catch a dose of Vitamin D, or they've just seen the bus they are about to board. These bus stops are new, modern and clean and would definitely be a relief from the scorching heat if you were silly enough to go for a stroll during summer.
However, these air conditioned bus stops also serve a double purpose – they are in fact, massive billboards that attract advertising!
Like this one advertising a popular multinational fast food company.

Dubai Travel Public Transport Video
I took some video footage of one of these bus stops to get a feel of what they're like. I can't imagine what the power bill is to keep all of Dubai's air conditioned bus stops going throughout the year, especially during summer!
Anyway, check out more at Definitely Dubai!
About Anthony The Travel Tart
The Travel Tart writes about the funny, offbeat and weird aspects of world travel today. Travel wasn't meant to be taken too seriously! Check out ways to say hi below or sign up for his silly newsletter!
Other Silly Posts!