Currywurst – An Indian/German Sausage Food Hybrid in Berlin!
Ok, it's weird food time again! Today it's time to pay homage to the Currywurst! This is an unusual food hybrid that I recently tried on a Rail Europe Trip in Berlin. It doesn't sound quite right, but tastes spectacular. I'm starting to crave one right now!
Here is a picture of a Currywurst below! It's one of the best snack foods I have ever eaten! Unhealthy, but yummy!
Currywurst is a German fast food made up of deep fried pork sausage that is cut into slices and seasoned with warm curry salsa blended with generous amounts of curry powder, or other spices. It is frequently served at German 'Imbißbude' and from food trucks.
It was apparently invented in the late 1940s as a cheap but filling snack for construction workers that were re-building Berlin after World War Two. It's popular all over Germany, but especially so in suburban Berlin, where it's now considered a cultural icon – and for a good reason too! There are almost a billion servings of Currywurst in Germany alone per year. That's a lot of dead pigs!
I watched one being made, and I admit, it didn't look too healthy at first. I saw the guy place the german sausage in the deep fryer for a little while, before he removed it, sliced it up, and placed the magical salsa and curry powder. You can also order different heat levels – from mildly spicy, to extremely hot – so hot in fact, it would probably burn out your entire intestinal trail from the oesophagus until it left your body forever!
But once I tasted it, I wanted more! It was absolutely delicious. I'm thinking of starting my own Currywurst franchise in Australia!
In fact, the Currywurst is such an icon in Berlin, there is even a dedicated Currywurst Museum! No joke! Here is the sign that proves it!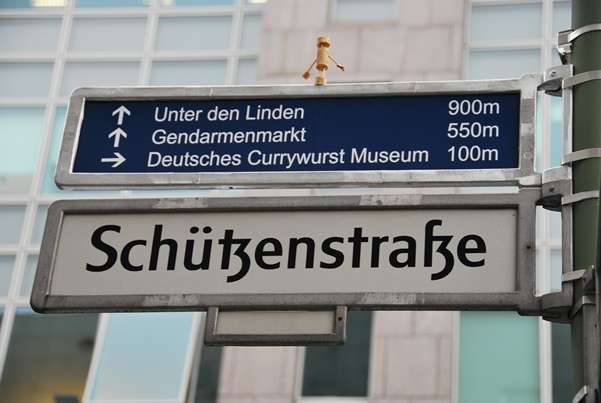 More Currywurst Stuff
Believe it or not, you can buy the sauce mix on Amazon – the Knorr Fix For Curry Sausage – Sauce Mix. I'm actually tempted to buy some myself!
See more at my crazy list of German  Swear Words, Slang and Expletives!
About Anthony The Travel Tart
The Travel Tart writes about the funny, offbeat and weird aspects of world travel today. Travel wasn't meant to be taken too seriously! Check out ways to say hi below or sign up for his silly newsletter!
Other Silly Posts!