Cultural Awareness Education – Because of Precedents!
I've got another Funny Travel Photo from Michael Hodson of Go See Write.com.
It's of a sign outlining the dress standards required to enter one of the Temples in Thailand.
That's right, the proper advice on how to dress appropriately so you're not offending the local culture.
Check out the Funny Cultural Awareness Education Sign
I love how the phrase 'Don't Go Shirtless, or in shorts, hot pants, or other unsuitable attire inside the temple' needed to be pointed out!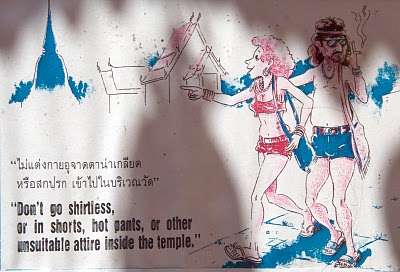 That's gold! And I love the depiction of the ignorant travellers in the picture!
And the only reason this sign was made up, is because something like the above picture has happened before!
A bit like the warning sign at the Vancouver Winter Olympics site and the Love Scenes Forbidden sign in Costa Rica!
Check out Cultural Intelligence: A Guide to Working with People from Other Cultures and Cultural Awareness: Respecting Race, Religion, and Diversity.
About Anthony The Travel Tart
The Travel Tart writes about the funny, offbeat and weird aspects of world travel today. Travel wasn't meant to be taken too seriously! Check out ways to say hi below or sign up for his silly newsletter!
Other Silly Posts!