Crazy Travel Photo time!
It's time for this weeks Crazy Travel Photo – it's the Bong Collection shop!
When I first came across this sign, I had to do a double take. Surely, in a country where you can receive the death penalty for being a drug dealer or growing drugs, there would be no way that a shop would be housing only devices used to inhale tonnes of marijuana in one sitting. If you don't get the death penalty, you might end up in a prison for a couple of decades instead!
But this Crazy Travel Photo was spotted in the city of Jambi, in central Sumatra in Indonesia.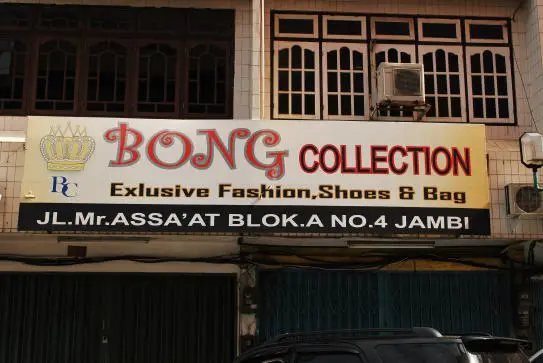 Obviously, the Bong Collection shop sells shoes and clothes, but sometimes things don't translate well into English too well. Just to make sure, I walked past the window to take a peek inside, and yes this was definitely a fashion and clothes shop. No sign of a bong anywhere, let alone a collection.
However, this Crazy Travel Photo probably does have a feasible explanation.
I have a feeling that this business is owned by someone Chinese, because 'Bong' is the Chinese name for 'King', and the inclusion of a crown on the Bong Collection sign would seem to back this potential theory up.
I tried looking for a 'Munchie Collection' shop nearby as I thought this would make sense after one had visited the Bong Collection shop, but I had no luck. Oh well. I still had a good chuckle at this photo!
More Crazy Travel Photo Stuff
Stay tuned for more Crazy Travel Photos. You can see more of them at Weird World (Bradt Guides). One of my own funny travel photos even made an appearance here, so it's worth buying for that alone… maybe..
About Anthony The Travel Tart
The Travel Tart writes about the funny, offbeat and weird aspects of world travel today. Travel wasn't meant to be taken too seriously! Check out ways to say hi below or sign up for his silly newsletter!
Other Silly Posts!