Anyone who has been to China would know that the Chinese Money is called the Renminbi.
Plus, money is also a big cultural aspect of every day life in China – as it has been intrinsically associated with Chinese culture for centuries.
As an example, one Chinese cultural tradition is to burn stuff that for deceased loved ones as a spiritual way to make sure that person has it in the next life. That includes things like fake goods, fake clothes, and even fake money with lots of zeros printed on them.
This fascination with money is the topic for the travel photo featured in this post.
Anyway, today's rather odd travel photo was sent to me by Rod and Janette who also previously sent me the 'Don't Talk On The Phone During A Thunderstorm Sign' and the Funny Chinese Toilet Sign.
They were on one of their many trips to China and they spotted this during their travels. This sign is a bit unusually worded:
Chinese Money Quotes. I Think?
I sort of get this. The first five lines more or less make sense.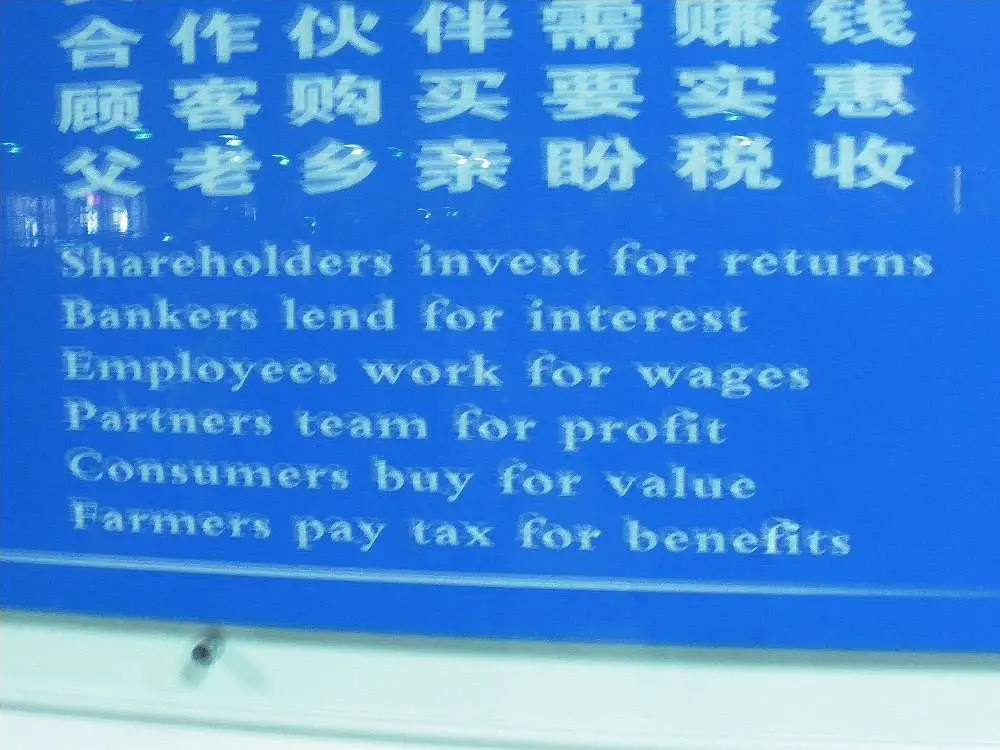 But I'm not sure what 'Farmers pay tax for benefits' means!
I mean, we all pay tax for 'benefits' from our respective governments, but it's not quite as explicit as the guy who was going to use government stimulus money (ie, taxpayer money) to keep the high class ladies in business!
Anyway, if you've got some great Engrish or Chinglish which is a bit out there, please contact me and I'll feature it!
Other Silly Posts!