Business Of The Week – A One Man Band!
Not sure if this Business Of The Week is going to make The Wall Street Journal any time soon, but I really admire the enterprising and innovative nature of this guy I came across in Palembang in South Sumatra, Indonesia.
Since the demise of the Polaroid Camera, I thought that the days of people coming up to you in the street saying that they could take an instant photo of you near some tourist landmark were over.
Boy, was I mistaken.
On my recent trip to Indonesia, I came across the Instant Digital Photo Man – and he instantly had my nomination for Business Of The Week.
He offers to take your picture near the Ampera Bridge in Palembang.  But with a digital camera, and definitely not with an old and outdated, superseded Polaroid instant camera either.
What is remarkable is that he also carries around a printer that he plugs the camera into, and then prints of the photo in a couple of minutes while you watch.
The tools of his trade are below: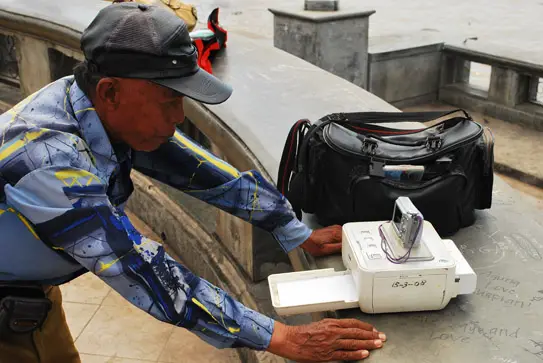 Ironically, he was happy for me to take a photo of him doing his job after he had taken a photo of me and members of the Wongkito Blogging Community. I guess it was a win win situation – he received remuneration for his employment, and I received some good subject matter for my silly travel blog!
Anyway, I hope people in some tourist traps (of which Palembang isn't) get to copy his idea around all of the clichéd landmarks that exist around the world!
More Business of the Week Stuff
Maybe he got his ideas from Scott Kelby's Digital Photography Boxed Set, Volumes 1, 2, and 3.
Considering there are few jobs in Indonesia, I thought this guy had great initiative, and hence, deserves the Business Of The Week Nomination!
About Anthony The Travel Tart
The Travel Tart writes about the funny, offbeat and weird aspects of world travel today. Travel wasn't meant to be taken too seriously! Check out ways to say hi below or sign up for his silly newsletter!
Other Silly Posts!