Boeing 787 Dreamliner – A Sign You Wouldn't See on Most Aeroplanes!
A while ago, I was invited by Qantas Airways to check out the Boeing 787 Dreamliner in the flesh (um, or should that be in the composite shell?) as it was undergoing a series of test flights to make it ready for certification. Part of these tests include flying in all sorts of conditions, plus also freezing and boiling the plane under controlled experiments to make sure it doesn't fall apart!
There's been a lot of hype about the Boeing 787  Dreamliner as it's set to revolutionise air travel for a number of airlines who have bought dozens of these planes. The hype is about a number of things, such as what the plane is made of (composite materials instead of metals), levels of flying comfort (pressurisation is set at about 1800m instead of over 2000 metres), and the potential for a less noisy plane that doesn't burn as much juice as others.
Now, after going through the plane, and even having the rare opportunity to sit in the flight deck (which is something I haven't done at all), I did notice a sign that did catch my eye when I walked into the plane: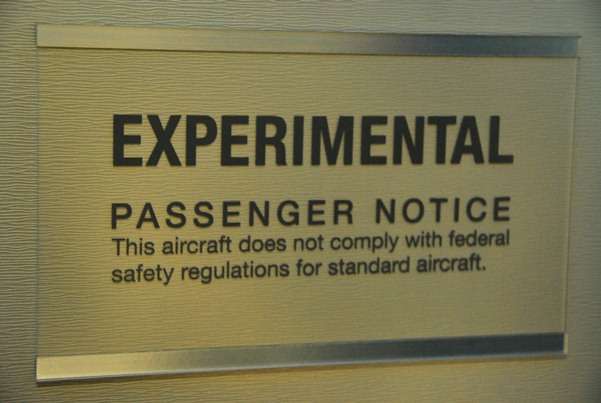 Okay, this may not create the feelings of safety for some people, but hey, Boeing planes have a pretty good reputation for building robust planes that don't fall out of the sky, because I've been on heaps of them. I didn't have a chance to experience the Boeing 787 in flight, but whilst this is still an experimental plane, I'd feel way safer on this one than a couple of the old Russian rust buckets I've been on! Seriously, I flew on one that was, at best case, 25 years old and had some seat belts that weren't functioning, or unavailable!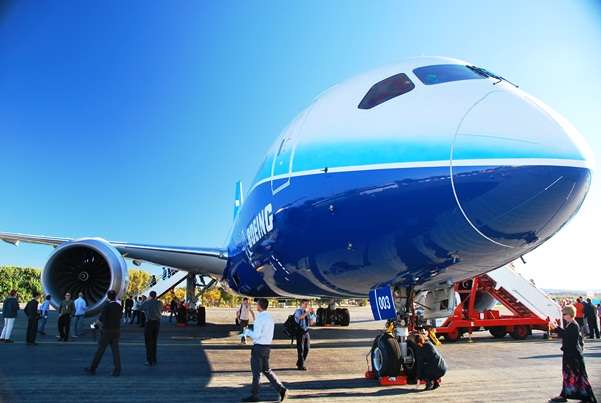 One thing that struck me is how expensive this testing program is. Because this particular plane is for test or experimental purposes only, it cannot be used in normal service once certification for the Boeing 787 has been obtained. It either has to be retired, or even scrapped!
Here is a quick video tour of the Boeing 787 Dreamliner.
Anyway, I was disappointed not to see the Alternative Safety Cards onboard! That would have made my day!
But I was grateful to not experience the Weird Airport People or Murphy's Laws for Frequent Flyers!
Hopefully, I'll get to road test the 787 very soon!
Hint, Boeing!
About Anthony The Travel Tart
The Travel Tart writes about the funny, offbeat and weird aspects of world travel today. Travel wasn't meant to be taken too seriously! Check out ways to say hi below or sign up for his silly newsletter!
Other Silly Posts!