Bizarre Travel Photo time! The Best Menu Picture Ever!
Today's Bizarre Travel Photo is the Best Menu Picture – the hand drawn breakfast menu. I absolutely love this piece of improvisation that you normally don't see in the first world! And it's right in your face for breakfast, lunch and dinner if you really want it to be!
This great culinary photo example was sent to me from another travel addict friend who I used to work with, during his recent journey through the wide expanse of Incredible India.
Check it out! I reckon this food menu is really cool! Makes a nice alternative to the drab menus I sometimes come across which have come from an inkjet printer. This would have taken a while to draw up!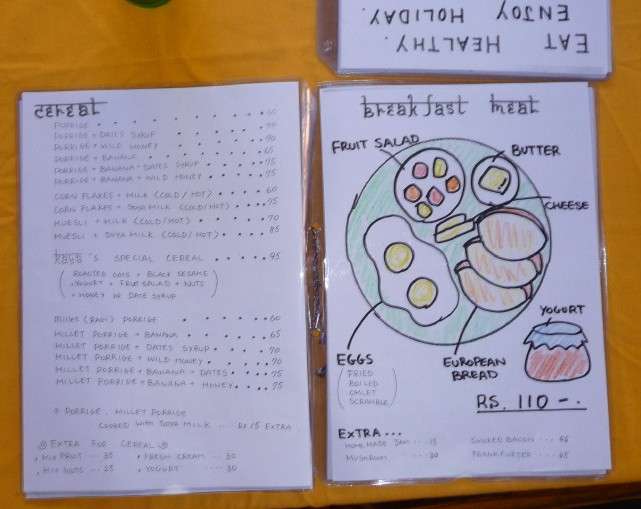 If you look at the top right hand corner of this Bizarre Travel Photo, I love the uplifting description on this Best Menu Picture – 'Eat Healthy, Enjoy Holiday'.
I would have loved to have seen the Lunch and Dinner menus at this food joint! But think of the logistics – just say you had a restaurant of twenty tables, with four people per table – can you imagine trying to draw eighty menus for all of your potential customers? This crazy task would take weeks and weeks! It's an incredible effort as far as I am concerned!
But this is what I love about travelling the world – coming across unpretentious stuff like this that makes you think of the reasoning behind it.
What other Best Menu Pictures have you come across? It would be hard to top this one, that's for sure!
If you like Bizarre Food, check out Bizarre Foods with Andrew Zimmern – Collections One, Two and Three!
If you know of others, leave a comment with a link to a Bizarre Travel Photo!
About Anthony The Travel Tart
The Travel Tart writes about the funny, offbeat and weird aspects of world travel today. Travel wasn't meant to be taken too seriously! Check out ways to say hi below or sign up for his silly newsletter!
Other Silly Posts!