Best Steak Ever!
The Best Steak I've ever had has been in Argentina. And not via a BBQ competition either!
WARNING: Vegetarians, please stop reading now!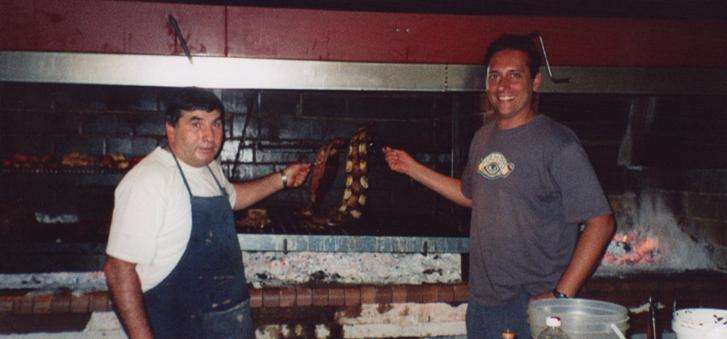 If you're a carnivore, and you're after the Best Steak in the world, then Argentina is the place for you.
Check out the picture – I'm holding an entire set of cow ribs with my mate, the Parilla chef.
Argentines eat truckloads of meat, resembling an evolutionary throwback to some sort of caveman diet.  They eat on average 60 kilograms of beef a year per capita (compared to about 30 kilograms for Australians), working out at 165 grams of beef every single bloody day.  Remember, this figure DOES NOT include chicken or lamb!
Remarkably, meat ingestion has decreased over the years from some astronomical level.  Meat is always cooked the Argentine way – the Argentine barbecue, or the Asador. Salads are an optional extra, always served first before the main meal and eaten on their own, so they do not spoil the immaculate presentation of char-grilled protein on a plate that can barely contain it.
The Best Steaks are also The Biggest!
The sizes of the steaks were enormous and I reckon it took me at least a week to crap out each steak. To satisfy my rabid curiosity, I asked a waiter in a parilla steak house just how much steak his restaurant went through a day.
'¿Cuantos kilos carnes un dia?' I asked in rough-as-guts Spanish.
His answer was 'tres cientos' – Three Hundred!
Judging by the serious look on his face, he wasn't joking.  If he spoke English, I'm sure he would have said 'And how would you like your entire cow cooked, Señor Gringo?'
So let me work this out.  If one restaurant in Argentina char-grills over two tonnes (2.1, to be precise) of steak per week, this accumulates to 110 tonnes of steak a year.   Just one steak restaurant in Argentina, of which there must be millions.  I was flabbergasted when I contemplated how many dead cows that translated to.
Once the bovine beasts reach cow heaven, their presence is not lost on this earth, as the enormous steak diet translates into a colossal range of leather goods for sale.  I concluded from this large collection of evidence there must be some rough-looking colons in Argentina and stomach surgeons were in short supply.
I understood the steak addiction though, as the beef was outstanding – it was the best steak I'd ever devoured. Every single time.  It was the way meat was cooked that contributed to the flavour.  Steak is cooked over hot burning wood coals, creating an appetizing taste.  When served, plates are devoid of any other food material, creating a contrast of flame-roasted tenderloin against barely-visible edge of white serving plate. This created a challenge – you against the steak.  If there was any resemblance of meat left on the plate, the meat won.  It never won with me, but it was a close call some days.
However, the parilla wasn't solely devoted to bife de chorizo (sirloin) and bife de lomo (tenderloin) steak.  Whole lamb and chicken was split into flat lamb and flat chicken, roasted on open fires burning with a gentle wood flame.
Parilla chefs left the roasting carcass on the slow cooking fire from mid-afternoon, ready for carnivores that night.  For some astounding reason, chefs cook meat at the shite end of the protein spectrum – that offal crap, including morcilla (black pudding, or blood sausage), chinchulines (tripe) and riñones (kidneys).
Regardless, if you spend lunch or dinner at a parilla, you definitely need a siesta to digest the 900 gram monster you have just devoured.  Sometimes, you might need a siesta worthy of hibernation.
Hungry for the Best Steak?
If I've made you ravenous, check out Seven Fires: Grilling the Argentine Way.
Salud!  And enjoy the Best Steak ever!

About Anthony The Travel Tart
The Travel Tart writes about the funny, offbeat and weird aspects of world travel today. Travel wasn't meant to be taken too seriously! Check out ways to say hi below or sign up for his silly newsletter!
Other Silly Posts!