Beachside Houses with the Best View!
Beach Fales are something that is unique to Samoa. Fale (pronounced fah-lay) literally means house, so Beach Fales are literally Beachside Houses.
Basically, a beach fale is a open wooden platform with a thatched roof, that has retractable side made out of coconut leaves in case it's stormy and the wind blows the rain horizontally. There is actually no word in the Samoan language for 'wall'. That's because many houses have no walls, and are literally open air platforms with a roof because it can become very hot in the South Pacific.
Beach Fales aren't the unaffordable condos or mansions that often occur around the world. These are simple, wooden constructions that have a multimillion dollar view for the price of a couple of drinks back home.
Most Beach Fales have a powerpoint and a light, and a mattress enclosed by a mosquito net. They are very basic, but are surprisingly comfortable and very clean. There's nothing like dozing off to the sound of the ocean lapping at the sand, whilst feeling the cool sea breeze drift through the fale.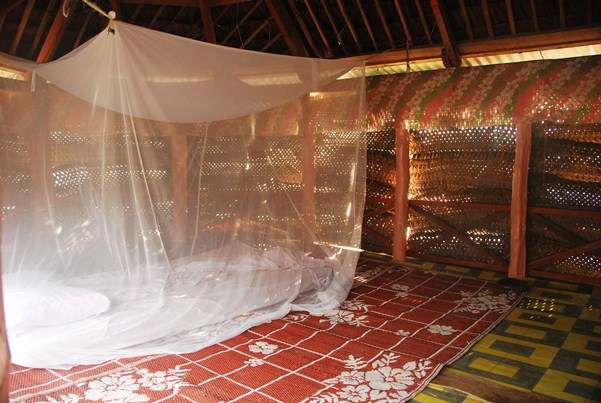 Bathrooms are communal, or you could just walk off into the ocean for a clean up! There is heaps of beach fale accomodation in Samoa. The Samoa Tourism Authority website has a crapload of beach fales listed there, and you can literally fale hop around Samoa if you want.
These places are great if you want to completely detach from the hustle and bustle of Western society for a while and do your own thing. This is not a place for Full Moon Parties or other wild piss ups. If you are looking for a cheap place to stay that's by the beach, in a area that's laid back, relaxed and not a tourist trap, Samoa is an awesome example of this.
In terms of cost, Beach Fales are usually around the 60 to 70 tala mark per night. This roughly converts to around 25 to 30 US dollars depending on the exchange rate at the time, and whether the US dollar fluctuates wildly because of some large debt problem or global financial crisis. However, this price includes BOTH breakfast and dinner. I was really surprised about the quality of food – free range eggs in the morning (everything in Samoa roams free!), plus a chicken curry at night. That's pretty good value!
Anyway, I stayed at the Lauiula Beach Fales on the island of Savai'i. I interviewed Richard who runs the joint about these beach houses, and he also talks about the hapless tourist who swam out too far from the fale and had to be rescued by the navy. After passing a few whales!
More Beach House Stuff
For more Beach Fale info, check out the Samoa Tourism Authority Website.
About Anthony The Travel Tart
The Travel Tart writes about the funny, offbeat and weird aspects of world travel today. Travel wasn't meant to be taken too seriously! Check out ways to say hi below or sign up for his silly newsletter!
Other Silly Posts!