Bali Scooter – multipurpose transport vehicle!
The Bali Scooter – Masters of Transport and Logistics Number One,  is the Satellite Dish Transporter spotted at Bali, Indonesia. I came across this rather amusing site when I went on my first trip regarding Pesta Blogger, or the Blogger Party, which is an annual blogging conference held in Jakarta because Indonesians are passionate and crazy about blogging – which is why I like going there!
The Scooter is a mainstay of transport in Indonesia. Entire shopping trips, families and household goods are often transported on them. Sometimes, tourists foolishly rent them so they can ride around the chaotic streets of Kuta, somehow miraculously avoiding numerous accidents. Not sure if these Balinese Scooters are covered on the standard terms and conditions of most travel insurance packages!
The Bali scooter is a bit different to these scooters here on Amazon!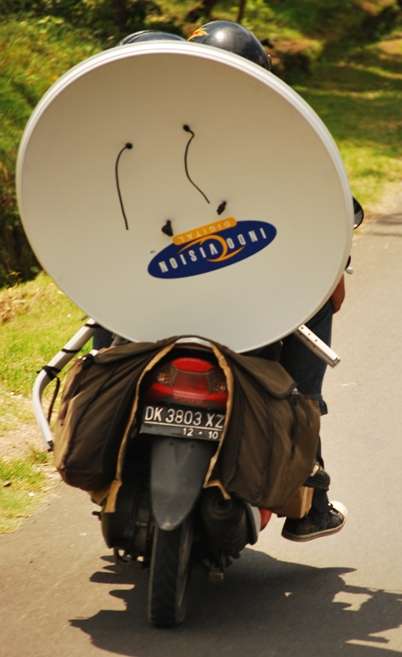 I wonder if these two can receive great reception on their Bali Scooter? Not sure how many pay television channels they would be able to tap into!
You have to admit, these two characters are extremely inventive and resourceful! But that is the way of the world in the third world. Lack of resources leads to extreme innovation and making do with what you have, which is usually not very much! And yes, this resourcefulness leads to people far exceeding the engineering capacities of their transport mechanisms!
Oh well. For those going to Bali, it can be a bit of a tourist trap in some places (for example, Kuta) but there are numerous places on the island to escape the hawkers and other enterprising businessmen. Actually, you might actually meet some cool locals if you explore the less visited parts of Bali, as this is one of the standard laws of travelling – the amount of authentic experiences is inversely proportional to the time spent in a tourist trap!
About Anthony The Travel Tart
The Travel Tart writes about the funny, offbeat and weird aspects of world travel today. Travel wasn't meant to be taken too seriously! Check out ways to say hi below or sign up for his silly newsletter!
Other Silly Posts!