Backpack Reviews To Help Your Back – I Hope!
Recently, a Public Relations Firm in Sydney contacted me wanting to know if I was interested doing a Backpack Review (and keeping!) either a Travel Backpack or Rucksack from the Explore Planet Earth range. Since I'm a Travel Tart, I greedily said yes to adding more travel crap to my ever expanding arsenal!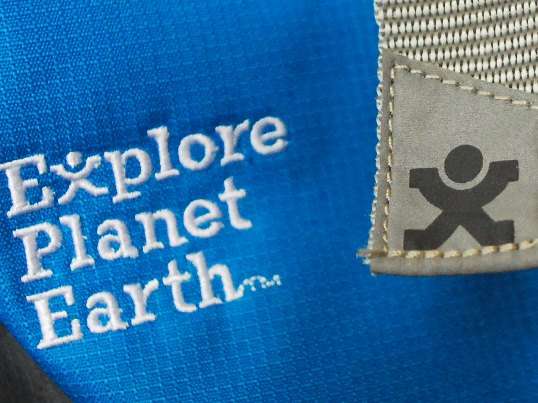 Unfortunately, the timing of the PR company contacting me with a new piece of travel gear was almost as bad as Charlie Sheen walking into a rehab clinic after a wild night snorting too much nose candy – that is, too late!
That's because I had just bought a new travel backpack a few months earlier because my old faithful was looking a bit tired after almost a decade of terrible punishment, so I decided to opt for something different – the Carina Rucksack. That's because I didn't have a Rucksack at the time, and I thought it was a great idea to add one to my travelling stash if I feel the sudden urge to do a tonne of trekking.
The Carina Rucksack sits within the Explorer Range, which is the entry level gear of the Explore Planet Earth Range which costs around $AUD119 to $AUD199 (at the moment, that's the same in US dollars). I've seen this rucksack retail from anywhere between $AUD 130 to $AUD160 range in stores and online. It comes in two sizes – 65 and 75 litres, and I received the larger model for the review. I like the bright sky blue colour, as this would be easy to spot by American spy satellites if I ever got lost on a big trek in the Wilderness a.k.a Into The Wild.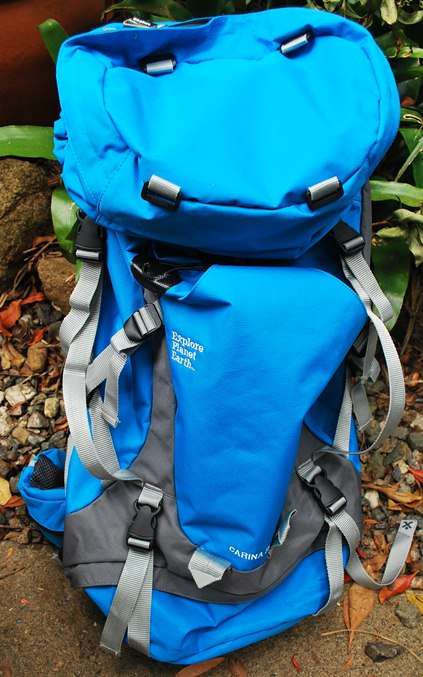 While it's an entry level pack, the Carina Rucksack surprisingly comes with a five year warranty. So if Explore Planet Earth are willing to back it for that long, it might be pretty good.
Even the entry level range has the backing of COCA, the Chiropractic and Osteopathic College of Australasia, meaning that these packs should be good for your back, even for the 'Future Chiropractor Patient' Travel Personality Type that I wrote about in 'Travel Personalities Explained'.
Anyway, here is my Backpack Review and road test:
Backpack Reviews – Firstly, Who The Hell is Explore Planet Earth?
I had heard of them before, but many people outside of Australia probably haven't. They've been making travel backpacks and rucksacks for a while, and sell mainly to the Australian Market. But they seem to be making some inroads to the travel and rucksack market, as I know others who have them and rate them as pretty good.
Rucksack Fabric Durability
For the tech boffins, the Carina Rucksack is made from something called Polytech 500 fabric. This means absolutely nothing to me, but on feeling the fabric, it seems pretty tough and solid to withstand a decent trashing. To my eyes, it looks like the pack would last for a while if you were doing a fair amount of trekking.
As a comparison, the Carina Rucksack fabric feels a lot more durable than my old faithful backpack fabric which survived my travels for almost 10 years, and this was a no brand cheapie I had bought for only 60 bucks at an outlet! (note, refer to The 10 Commandments of Tight Arse Travelling).
When I do look at buying a backpack, fabric durability is something that's pretty important to me, because I like throwing my travel gear all over the place after risking my life on barely roadworthy forms of transport, such as The Worst Drivers In The World.
Backpack Reviews – Carina Rucksack Features
In the past, I've steered clear of rucksacks because they can be a pain in the arse when you really want to get something stuffed at the bottom, for example, a much needed bottle opener to crack open a bottle of beer. However The Carina Rucksack has two openings – the hood, and a zipped compartment at the bottom which makes access much easier.
There's also loads of compartments to store stuff. I like the small zip compartment under the hood as this is a great place to store valuables like your passport. The rucksack itself can be divided into two compartments if you wish, as there is a separate draw string section that you can seal off to separate your clean gear from your crusty underwear.
The Carina Rucksack even has loops and ties to store ice picks if you're feeling the urge to climb up a frosty mountain to re-enact the amazing and painful journey of the guy from 'Touching The Void'. It's not as if I'm going to have too many opportunities to use ice picks in Australia (unless I feel like using them on one of the painful Workplace Personality Types That Make You Want To Travel), but if I ever needed them, the holders are there! I'm sure I could use them for something else!
On the outside, the Rucksack has a number of adjustable straps so that the pack can mold with the amount of gear inside it. There's even a separate compartment/flap where you could throw in a hydration bladder so you don't die of thirst.
The Carina Rucksack also comes with a separate raincover which is stored in a bag within the hood to add to the water proofing in case it pisses down rain from a great height.
The harness is fully adjustable depending if you're a short arse, or a tall giraffe like myself. The harness has two aluminium rods which you can mould the shape to your back. I was actually surprised these were included in this Rucksack, as I would expect nothing like this for a rucksack in this price range.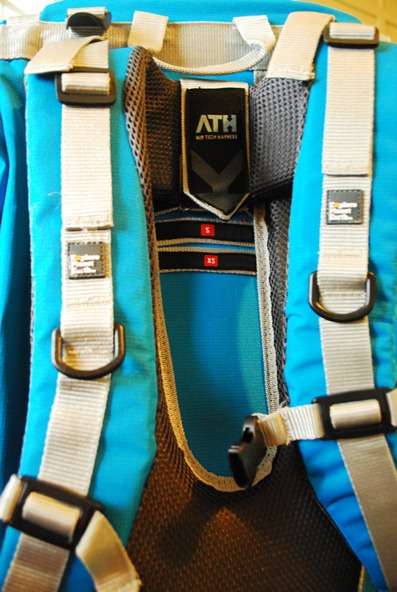 To gain another opinion, I even chatted to one of my mates who is a Trekking Tragic and showed him the Rucksack. He bought a hybrid one that cost many hundreds of dollars more, so you can't compare apples with oranges, but from his inspection, he thought the Carina Rucksack had a lot of great features for the price.
Walking Around With Tonnes of Stuff
I went for a short walk with the pack to test it out, and stuffed it full of gear to see if I would resemble the hunchback of Notre Dame after walking around for a while.
But I didn't need to see the chiropractor, and found the Carina Rucksack to be a more than adequate bit of travel gear if you like trekking in the great outdoors. The harness and padding was comfortable, and I felt I could walk for a lot longer.
Backpack Review – So What's The Verdict?
The Explore Planet Earth Carina Rucksack is great for what it is – an entry level rucksack. It's actually pretty good value for money, and it's packed with features one would expect from more expensive rucksacks.
It's probably not something you would take to scale Mount Everest, but it's not meant to be for that crazy people market anyway!
Backpack Review – The Carina Rucksack Verdict
So the bottom line is: if you're after a rucksack that doesn't cost a truckload of money but will get the job done without a fuss and last you a while, the Carina Rucksack from Explore Planet Earth should be considered as an option.
I'm looking forward to thrashing it like the other backpacks I've taken around the world!
So if you feel the bizarre need to shout me a trekking junket somewhere, feel free to Contact Me!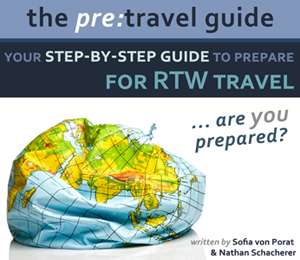 Other Silly Posts!