Argentina Wine Tours – Fancy a Drop?
Argentina is a magnificent country – and when you are there, you should check out many of the Argentina Wine Tours that are held in their wine growing regions. This stuff isn't as famous as other wine growing regions, by my of my, the wine made here is superb – even better, it won't burn a hole in your pocket!
You can judge how ingrained a wine culture is in a country by simply buying the cheapest bottle of plonk to test how good it is.  I bought one for about $AUD0.80 and it was really good!  If I bought alcohol for that price in Australia, it would be classed as methylated spirits!
The Mendoza region, not far from the Chile border, contains around 800 wineries (yes, that's right, 800) and is a good place to undertake an Argentina Wine Tour.  I tried to visit them all, but I could only manage two.
Wines from Mendoza usually specialise in the red varieties, including the supberb and velvety Malbec (wash down a big steak with one of these).  The San Juan region to the north specialises in white varieties.
But check out the size of this wine barrel I witnessed on an Argentina Wine Tour!  I felt like placing my mouth underneath the tap Homer Simpson style and taking a few gulps!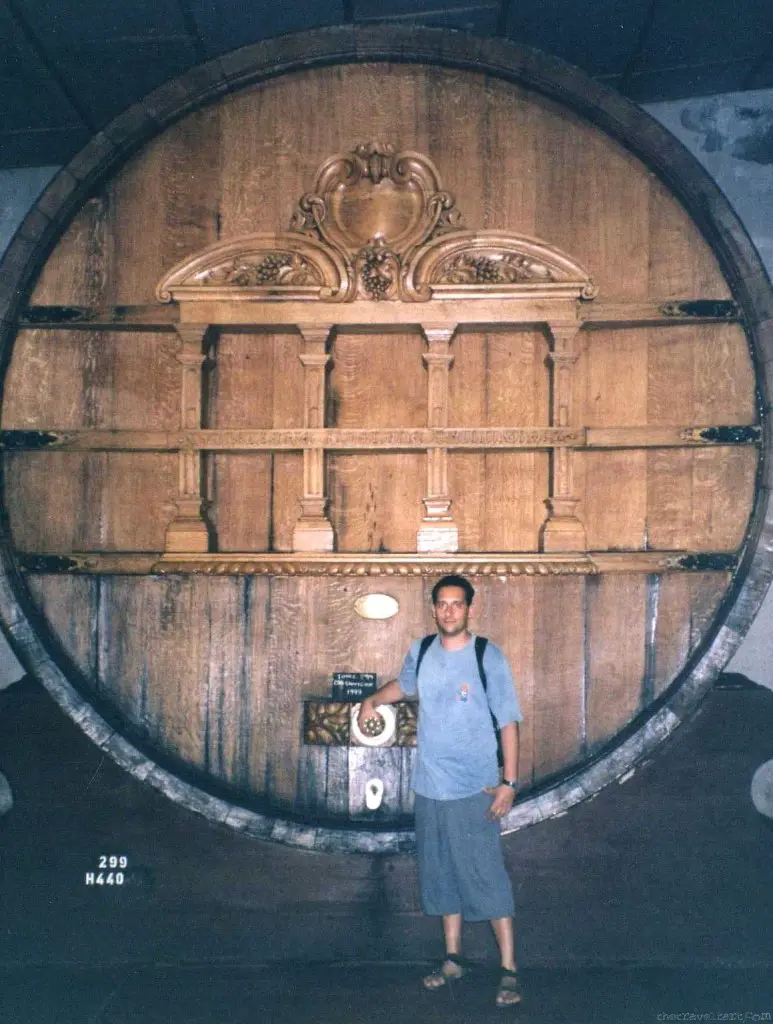 'Yes, I'll take this one!'
If you want to find out more about the magnificent Argentina Wine, check out Wine Routes of Argentina and The Wines of Argentina, Chile and Latin America.
Other things to do in Argentina after pickling your liver with some fantastic wine drunk on an Argentina Wine Tour – check out the state of their banks, some Beaver Dams, and scoff down a few tonnes of the Best Steak ever!
About Anthony The Travel Tart
The Travel Tart writes about the funny, offbeat and weird aspects of world travel today. Travel wasn't meant to be taken too seriously! Check out ways to say hi below or sign up for his silly newsletter!
Other Silly Posts!