Aircraft Carriers of the United States Navy are massive pieces of technological and logistical metal that transport aircraft and seamen all around the world to participate in exercises, and sometimes are deployed to different war zones to blow the crap out of places.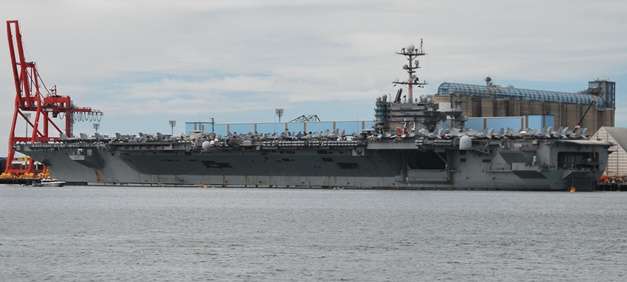 They are like small cities. As an example, the USS George Washington visited Brisbane recently and this grey metal beast can accommodate over 6,000 people. Being in the navy is definitely one way where you can travel the world.
Just to give you an idea of the numbers:
The USS George Washington carries 90 fixed wing planes and helicopters  – which is almost more than the entire Australian Air Force which currently has around 95 fighters. The United States Navy has 10 of these aircraft carriers
There are around 18,000 meals served per day on board
The flight deck area alone is 2 hectares, or 20,000 square metres
The aircraft carrier weighs 104,000 tonnes, and is 332 metres in length
The life on board an Aircraft Carrier has been forever immortalised in the extremely popular Hollywood movie, Top Gun, starring Tom Cruise. And sure, real life is like in the movies, right..? ;P
But think about this. Thousands of young virile men stuck at sea for months, and they are going on shore leave for a week. Now that's a lot of built up testosterone that has to be released one way or the other.
Some of the funny interviews with the United States sailors on television where pretty funny – one said they were going to 'get hooked up to internet, and then get really drunk'.
But that's not the only impact. Thousands of local women are willing to keep these sailors company. And I even saw a few newly hooked up couples in town a couple of times.
However, what's quite amazing is the local economic impact on Brisbane. Tourism bodies estimate that sailors from the USS George Washington will spend around 1 million dollars per day whilst on shore leave, or over 7 million dollars for the week they are in town. That's on accommodation, food, beer and.. women!
United States Aircraft Carriers – Short Video
I put together a quick clip about this particular United States Navy Aircraft Carrier so you can waste a bit more time at work:
There you go. I feel the need, the need for speed!
More Aircraft Carrier Stuff
See more at U.S. Aircraft Carriers: An Illustrated Design History.
About Anthony The Travel Tart
The Travel Tart writes about the funny, offbeat and weird aspects of world travel today. Travel wasn't meant to be taken too seriously! Check out ways to say hi below or sign up for his silly newsletter!
Other Silly Posts!